4 out of 9 Fashion Designer Awards are our students!
What a day it was! On March 24, the ninth edition of the competition for young designers of the Fashion Designer Awards took place in Warsaw's already well renowned Mokotów Mall. In addition to this the unveiling of the spring / summer collection 2018 took place, the presentation of trends for the upcoming season, inspiring conversations with fashion lovers, attractions and competitions for guests. It was primarily the energy, youth and promising talent of FDA semi-finalists that attracted crowds of Warsaw residents.
On the catwalk, you could see designs of twenty young designers, of which the unique nine got into the final finale. Among them, our students: this year's graduate Magdalena Kurnicka, last year's graduate Magdalena Popiel, a student of the second year Olena Ushanova and a student of the first year – Celina Wesołowska. All of the projects were awarded with great applause from the large audience.

What's more, the vote on the website of the fashiondesignerawards.com.pl organizer has been launched on the twenty-seventh of March in which Internet users will choose their tenth finalist. The finalist will be able to compete for attractive prizes during the Grand Finale, which will take place on April 23 in Warsaw.  The prize pool includes; a trip to Premier Vision to Paris from Microsoft Surface, participation in the International Young Designers Contest in Kiev, a trip to the Shaanxi Polytechinc Institute in China and an internship abroad at the atalier of the special guest of the Grand Finale.
You can also vote for our three students who were not so lucky to get to the finals. This is Kuba, Natalia and Monika, whose designs we could also see during the show.
In addition to semi-finalists, we could see the shows of our two graduates, Joanna Porayska, who currently lectures  Graphic Design at MSKPU and this year's graduate Aleksandra Malinowska.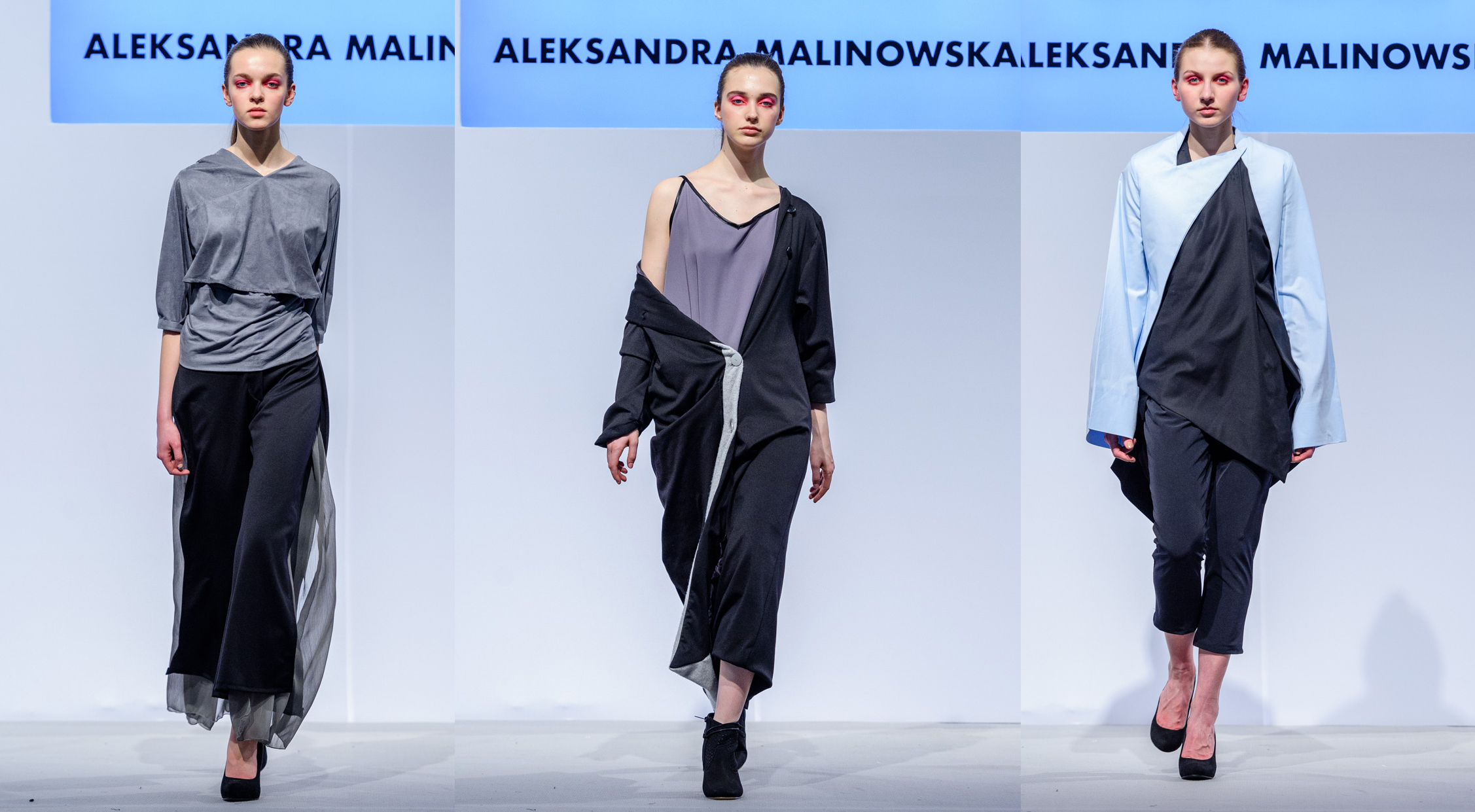 The guest of the show was Magdalena Płonka, the founder of MSKPU, who briefly talked about the school and studying, and also underlined the importance of taking part in competitions for young designers.