Our student Celina Wesołowska wins the FDA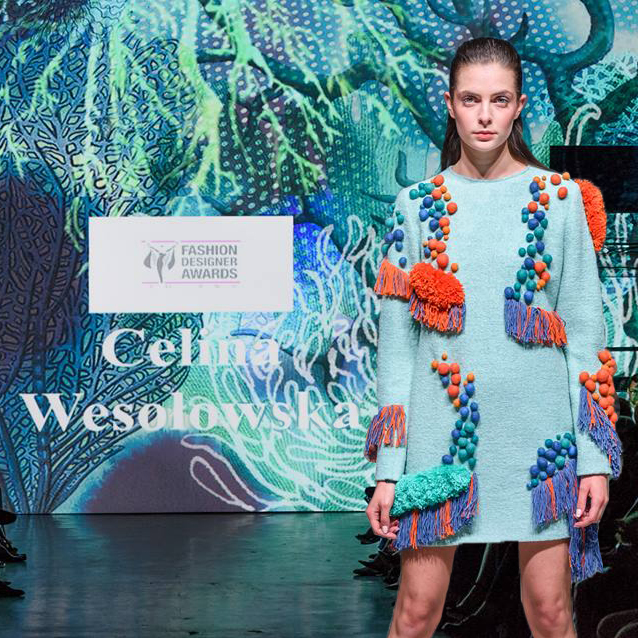 It could not be otherwise, we kept our fingers crossed all evening! The strong MSKPU representation did not disappoint in the finale.Ten finalists competed for the first place, including Magdalena Kurnicka who is this year's MSKPU  graduate, last year's graduate Magdalena Popiel, the second year student Olena Ushanova and the student of the first year – Celina Wesołowska. All projects got thunderous applause from the large audience.
The first three places were respectively collected by Celina Wesołowska, Sebastian Gąsienica-Łuszczek and Małgorzata Sobota. The inspiration behind our student's winning collection were the depths of the ocean, which perfectly fit into this year's FDA Tribute to the Nature theme. The designer used natural fabrics, including denim and wool.  The interesting design and colorful felt motifs were hand-made by the designer and deserve recognition.
The winner received an impressive prize pool, including: internship at Artem Klimchuk's atelier in Kiev, participation in the International Young Designers Contest in Kiev, where young designers from Central and Eastern Europe (winners of competitions in their countries) meet, 15 thousand zloty from the MSKPU Educational Partner, a full 2.5-year scholarship at MSKPU, workshops with Alberto Campagnolo, a trip to Premier Vision to Paris with the Microsoft Surface Strategic Partner and a design course at the Shaanxi Polytechnic Institute in  China.
Sebastian Gąsienica-Łuszczek, who finished second, received an invitation to an internship in Bizuu and an annual scholarship at MSKPU. His collection delighted Artem Klimchuk, who also invited him for an internship in his atelier in Kiev, and the Ukrainian FW producer invited him to participate in the International Young Designers Contest, where young designers from Central and Eastern Europe will meet in July. Małgorzata Sobota took third place and received an annual scholarship at MSKPU.
Olena Ushanova with the RHODOCHROSITE collection received a roaring applause.  She worked on  her collection's  various elements in MSKPU classes. Olena also gave an interview during the semi-finals on the Radio programme named Czworka. "I did not want to go for anything trivial, like flowers and trees, that's why I chose a stone. (…) What fascinated me the most is that the designer can be inspired by anything and never knows what and where will exhilirate them. The stone which I was motivated by is rhodochrosite, it is very rare and has a beautiful pink color. That's why my collection is pink, but it's not infantile. It is feminine and elegant, "says Olena Ushanova in an interview.
Much is also said about this year's MSKPU graduate Magdalena Kurnicka, whose collection received a special prize an internship in Gosia Baczyńska's studio and a special distinction from the cojestgrane24.pl Portal. Magdalena always willingly approached the competitions and it paid off many times. During Tokyo Design 2016 she had the opportunity to show her unique project.   This was due to winning in a backpack-inspired competion spurred by Japan.  She won it along with MSKPU's very own Monika Matysiak.
The last representative of the MSKPU in the grand finale of the Fashion Designer Awards was Magdalena Popiel, who graduated MSKPU in 2017 with the Shards collection, created under the watchful eye of Magdalena Płonka. Her collection was hand-embroidered and this time it surprised us with the attention to detail and beautiful completion of the silhouettes.